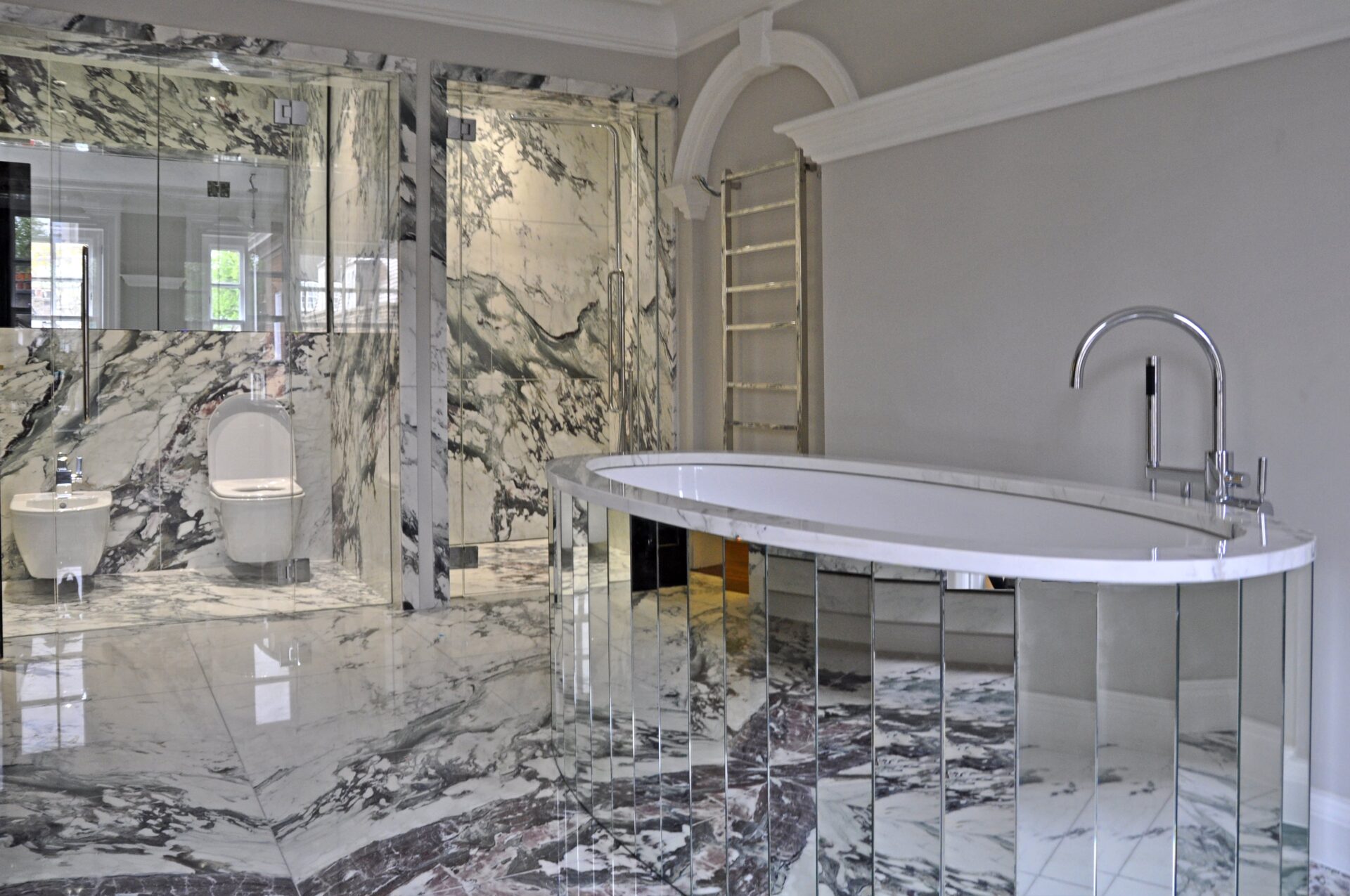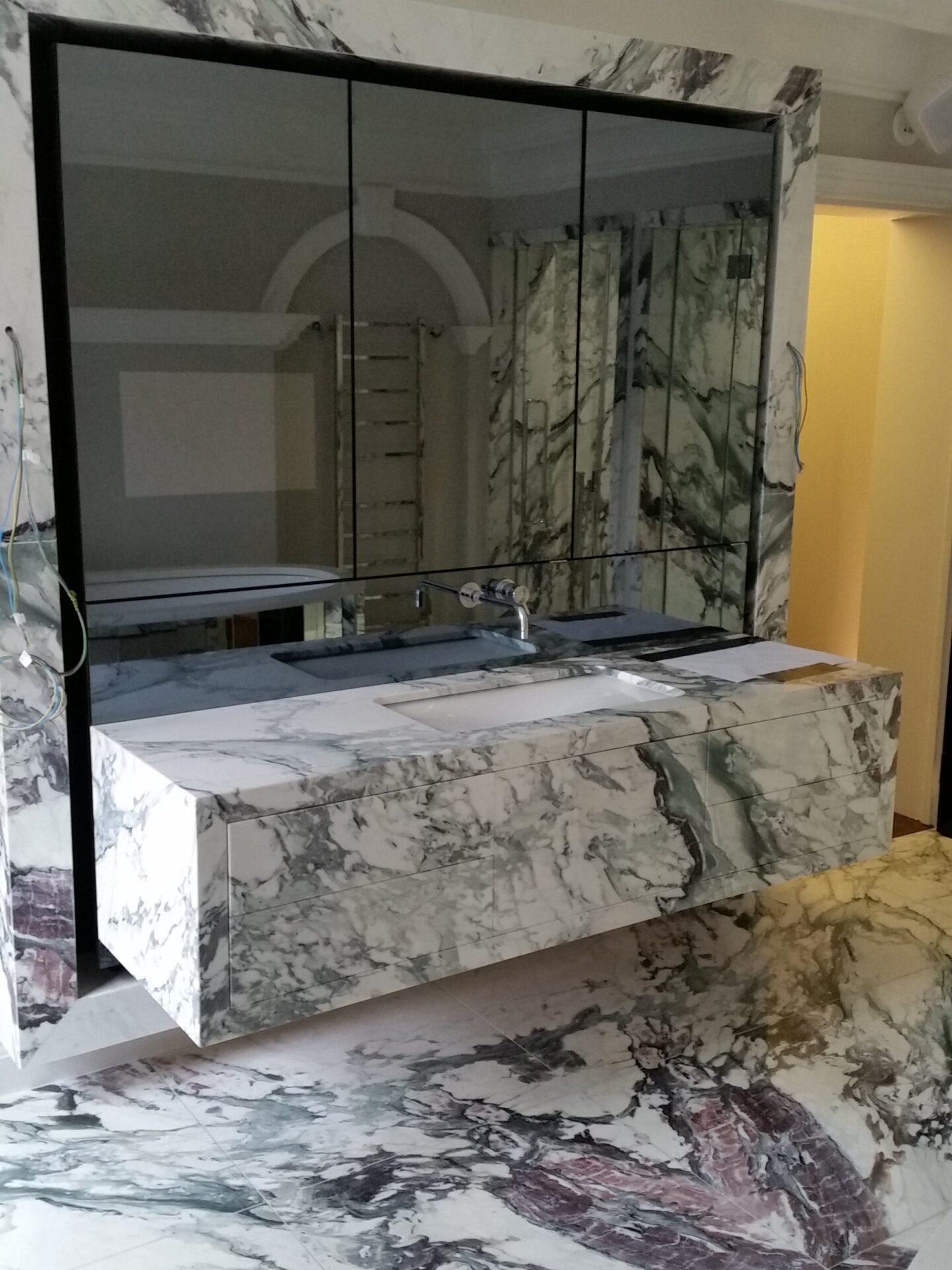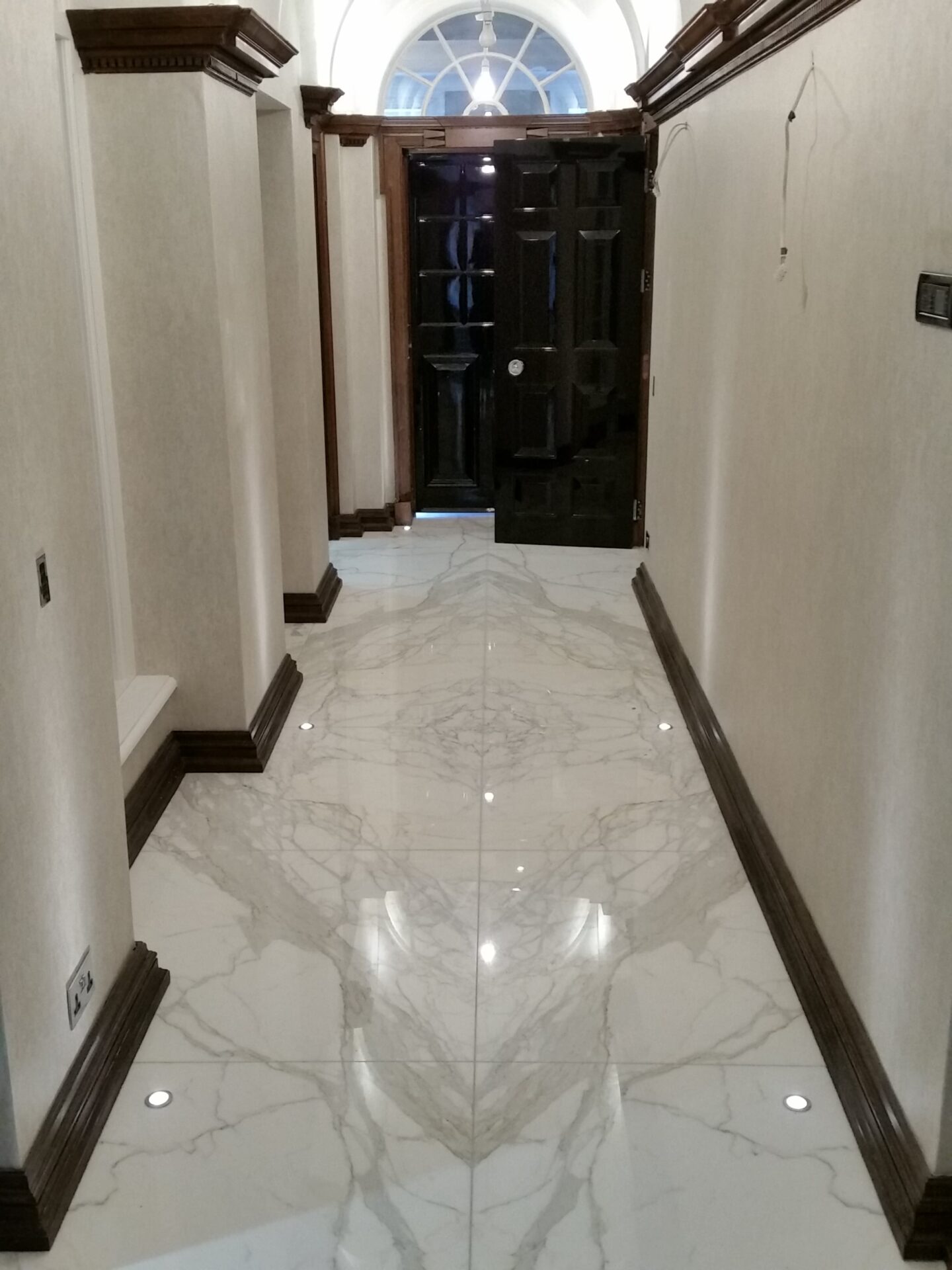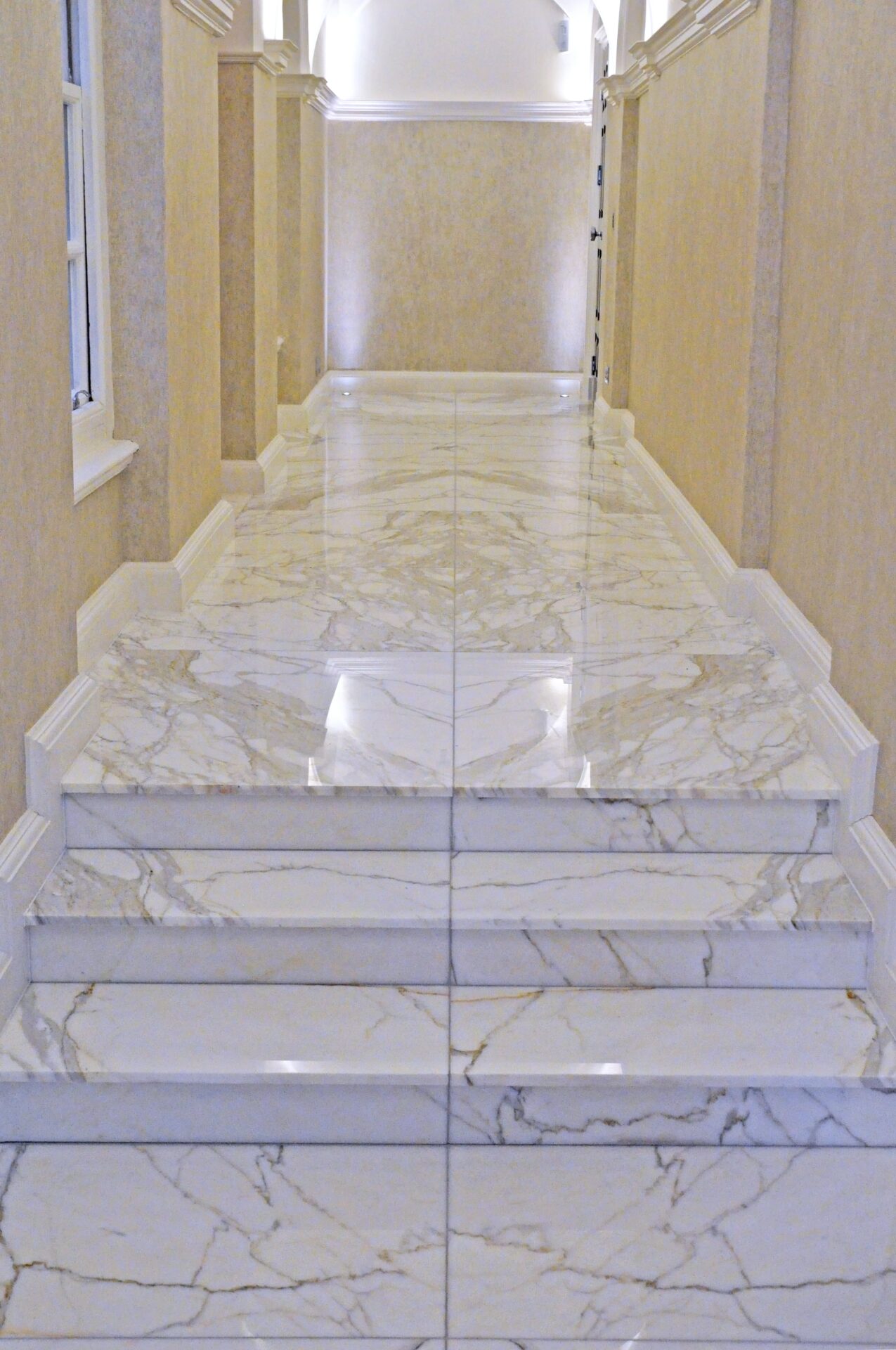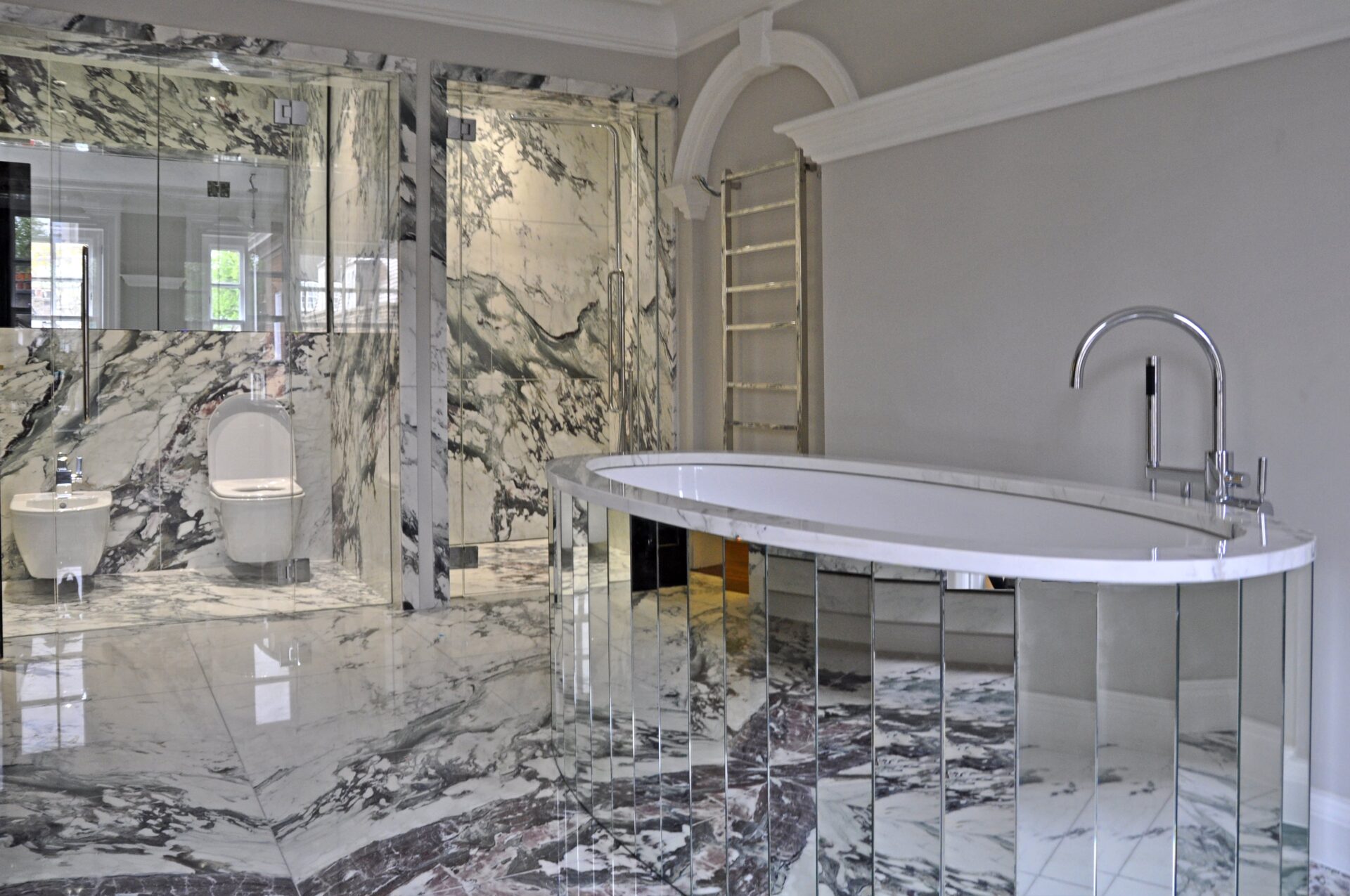 4 Cowley Street is a Grade II listed property rich with history and character situated in the heart of Westminster.  Built in the early 1900's, it was originally the headquarters for North Eastern Railways before becoming the headquarters for SDP in 1981.
Following the merger of the Liberals and Social Democrats in 1988, 4 Cowley Street became the headquarters for the newly formed party until they moved in 2011.
The overall £5m project involved Restore London renovating the building from office space back into a luxurious domestic property.
Our part of the project consisted of numerous luxury bathrooms and en-suites including marble bath tops, vanities and mirror surrounds, lobby floors, kitchen floor, outside terraces and a basement swimming pool worth approx. £600k.
On the third and top level of the property, the high-end specification in the bathrooms comprise of various book matched marbles including carrara, silver portoro, bianco fantastico and calacatta oro.
Each bathroom had its own design and character and the bath tops, vanity units and mirror surrounds completed the extravagant look.
The two en-suites to the Master Bedroom both boast a free standing bath fully clad in silver portoro marble giving the illusion of a levitating bath in the centre of the room.
Also on the third floor are the staff quarters including porcelain and mosaic bathrooms and a small staff kitchenette with composite worktops and splashbacks.
Coming down the impressive newly refurbished staircase, the lobbies adjoining the staircase were paved with 20mm polished and book matched calacatta oro stone.
On the ground floor, the enormous kitchen space was again paved in calacatta oro marble which complimented the ultra-modern kitchen design and stone worktops.
Leaving the kitchen via the French doors, the terrace area was paved with moleanos limestone complete with curved steps as a garden feature.
Going into the basement of the property, you are surprised to come across a large indoor swimming pool which is an added feature of the refurbished property.
The pool surround walls and floors are clad in moleanos limestone with a ribbed finish to the walls and a sandblasted anti-slip finish to the floors.
Inside the pool and circular spa, Stone & Ceramic undertook all waterproofing works as well as the Bisazza Elena mosaic finish.
Adjoining the pool area are a steam room and shower room tiled in Bisazza mosaic to complete the spa experience at home.
Working with Restore London as the main contractor, we were honoured to be involved in the refurbishment of this prestigious property and the finished project is an astounding success to all parties involved.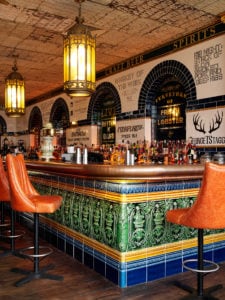 Blues Kitchen, Brixton
View project