Company profile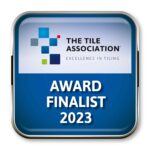 Established in 1991, Tile Choice Ltd boasts an impressive 18 individually styled stores throughout the Midlands area, covering a wide range of towns and cities. Their stores range in size from the smaller 3,000 square foot to much larger 19,000 square foot showrooms. Their centralized Warehouse and Distribution centre is stocked with over £5 million pounds worth of tiles.
Tile Choice boasts huge stocks of only the highest quality products. They specialise in ceramic and porcelain tiles, alongside a vast range of natural stone tiles such as limestones, granite and marble.
Sourcing products only from the world's leading manufacturers, the Tile Choice company motto is 'BUY BIG SO YOU PAY LESS' so you can be sure of great value and amazing special offers.
Tile Choice Ltd were TTA Award finalists in 2014, 2015, 2016, 2018, 2020, 2021, 2022, and 2023, and won a TTA Award in 2015, 2016, 2020, and 2021.
Map
Address: 4 Linnell Way, Telford Way Industrial Estate, Kettering, Northamptonshire, NN16 8PS