The Tile Association represents the whole of the UK wall and floor tile industry. TTA Membership can bring immediate cost savings to members, such as fixers, tiling contractors, tile retailers and manufacturers etc., help to generate business and provide up-to-date technical and business support.
How does TTA membership compare to Checkatrade membership?
| | | |
| --- | --- | --- |
| Benefit | Checkatrade | TTA |
| Description of service |  √ |  √ |
| Image gallery |  √ |  √ |
| Link to your website |  √ |  √ |
| Link to social media |  x |  √ |
| Your contact details |  √ |  √ |
| Access technical & advice |  x |  √ |
| Funding for training |  x |  √ |
| Discounted technical inspections |  x |  √ |
| Free industry publications |  x |  √ |
| £50 cash back with your Public Liability Insurance | x | √ |
| Cost for Independent Fixer | £619.00 ex. VAT* | £150.00 ex. VAT |
 *Price info as of January 2016.
Additional savings may be available for new fixer members. Contact TTA for up to date information.
Marketing
TTA Directory Listing
Free listing on the TTA web directory. With over 38 thousand visitors per month to our online directory you are sure to gain new leads.
Use of TTA Logo
Members can use the TTA Member logo on letterheads, business cards, premises and website etc. Tile retailer members will receive two logo window stickers free of charge upon joining, whilst independent fixer members will receive two logo van stickers. More can be ordered at a cost.
Free Trade Magazines
Free annual subscription to leading UK magazines for the tile industry – TSJ Tile & Stone Journal and CFJ Contract Flooring Journal.
Fixer Benefits
TTA Registered Fixer Card offers peace of mind to your customers, proving that you are trusted to complete their job to the highest standard. This is available to independent fixer members and fixers employed by member contractors. To apply contact membership@tile.org.uk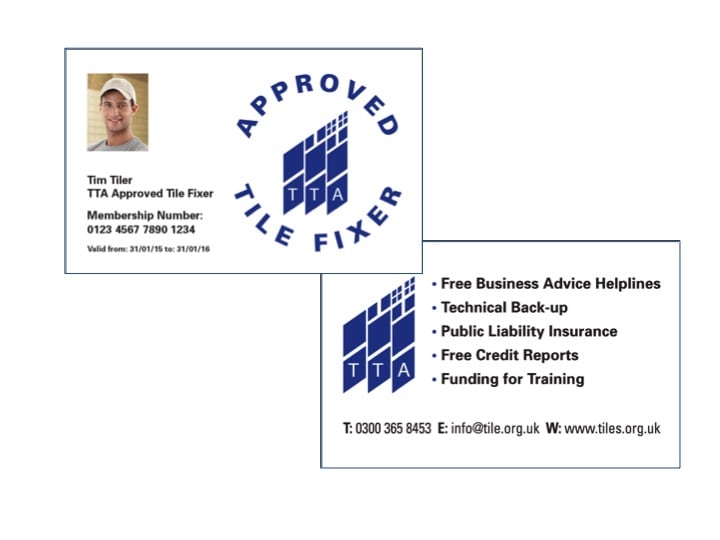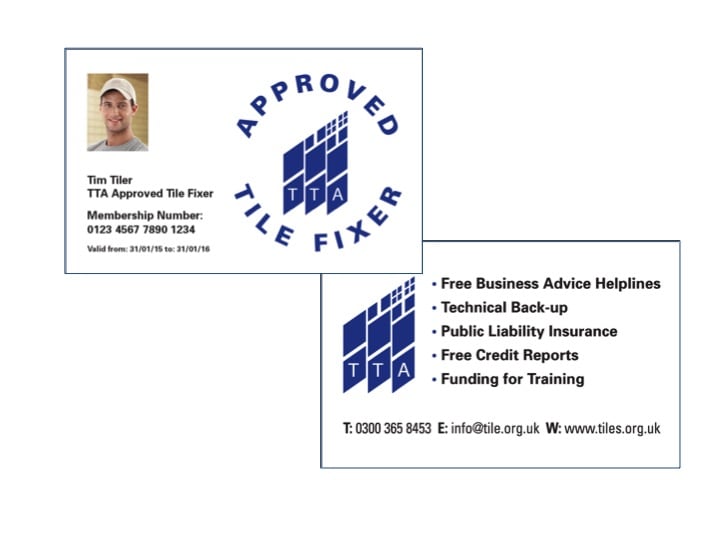 TTA business cards

– In support of our independent member fixers,  TTA branded business cards can be ordered via membership@tile.org.uk. Please supply information required as below.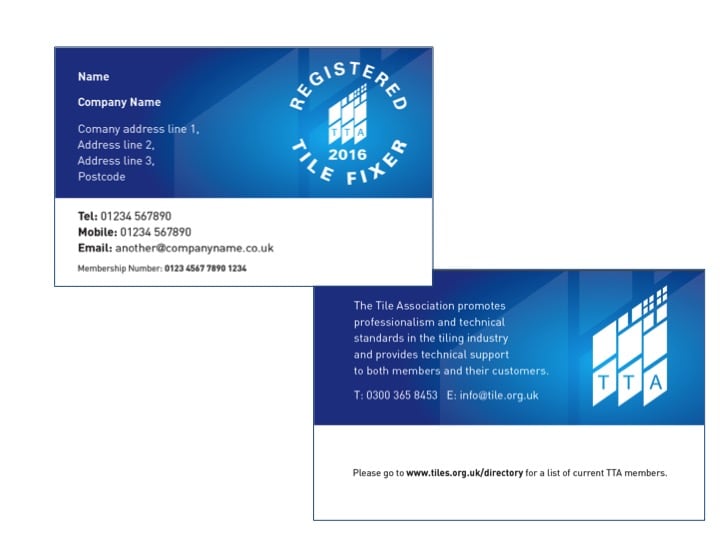 Technical Support
Technical Backup Assurance
Access to technical helpline and technical documents, providing advice on topics such as under floor heating, tiling with agglomerated stone, tiling to anhydrite screeds and many more.
Technical Inspections & Reports
Available at a discounted rate for support when you need it.
Training
Tiling Training
Our training courses are updated regularly, funding may also be available. Check out our Tiling Courses page for more information.
Technical Seminars
Attend topical seminars at discounted rates.
Business Support
Business Advice Helplines
As a TTA member you will be entitled to access free telephone business advice support. These helplines are accessed via a password, which will be issued when the services are required.
Contractual & Legal Helpline (England & Wales)
One hour free advice per year on construction law, contracts dispute resolution and retentions in England and Wales.
Contractual & Legal helpline (Scotland)
Thirty minutes free advice per case on construction law, contracts dispute resolution and retentions in Scotland.
Employment. Free advice on employment issues including discipline, redundancy and ill health.
Tax & Business
Free advice on tax and business queries including CIS, insolvency and tax status.
Health & Safety
Free advice on health & safety matters including CDM, asbestos and risk assessments.
Training. Free advice on training, apprenticeships, CSCS cards and grants.
Public Liability Insurance
Independent fixers receive £50 cashback when they switch to using our insurance partner – Jelf Small Business.
Free Credit Reports
Carried out on your behalf for your peace of mind.