Company profile
Original Features are one of the UK's leading suppliers of Victorian floor tiles, specialising in Victorian style tiles, manufactured by Winckelmans Tiles. We are exclusive stockists/suppliers of a full range of tiles; including encaustic, mosaic and tessellated floor tiles. This collection is available in up to 32 colours, hundreds of designs and styles, helping you achieve that on-trend period look.
Our geometric tile collection has been created with versatility in mind, and has been used in hundreds of commercial and residential projects for more than 30 years. Our design consultancy service has enabled our clients to recreate a period look (Victorian, Edwardian or Georgian), modernise an old design or develop a unique and bespoke design of their very own. Choose one of our traditional patterns or have fun creating your own bespoke, contemporary design.
The versatility, of our Victorian tiles, is unrivalled throughout this industry. These tiles are perfect for: Victorian hallway tiles, pathway tiles, bathroom tiles, porch tiles, hearth tiles and general outdoor tiles.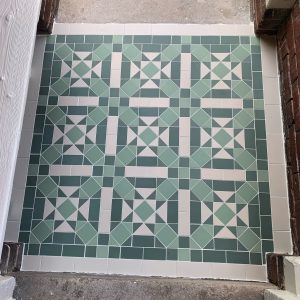 Areas of Expertise: Winckelmans Tiles, Victorian Floor Tiles
---
Map
Address: 155 Tottenham Lane, Crouch End, London, N8 9BT