Company profile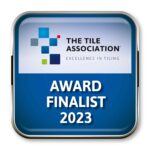 Parkside – Architectural Tiles and Strata – Technical Tiles is a contemporary porcelain, ceramic and natural stone tile specification company with over 500 designs on offer, including many exclusives, from some of the world's most dynamic manufacturers.
Whether for commercial, hospitality or high-end residential projects, our knowledgeable team of architectural and technical consultants are able to help specify the right products to match any design brief. Offering the latest technological innovations and tile trends, we provide an unrivalled bespoke service including waterjet cutting, porcelain worktop fabrication and digital printing on to tiles.
With Design Studios in Clerkenwell, Chelsea, Islington, Leicester, and the Cotswolds, our team has over 200 years combined experience in assisting the architecture and design community to create original and inventive interior projects. We look forward to seeing your projects and working with you soon.
Parkside were TTA Award finalists in 2015, 2016, 2018, 2019, 2020, 2021, and 2023, and won a TTA Award in 2019, 2020, and 2021.
Parkside Architectural Tiles & Strata Technical Tiles were TTA Award finalists in 2022.

Map
Address: Thorpe Way, Grove Park, Enderby, Leicestershire, LE19 1SU