Company profile
EVERYTHING YOU NEED AT TILEWORKS…
There are so many choices when it comes to investing money in your home, that it can be difficult to choose the right company to help you.
At Tileworks, we promise to always give you professional and honest advice without being pushy at every step of your tile buying journey. We care about your project as much as you do and we make every step simple for you by also providing a free sample and delivery service. And don't worry about the kids getting bored while you browse, we even have that covered with our new kids' den.
When it comes to choice, professional expertise, and quality, Tileworks leaves competitors far behind so you are sure to find whatever you need. Our family has been bringing its superb range of tiles and flooring to Northern Ireland for almost 8 years so we know our stuff when it comes to tiling and we have chosen you an amazing range of designs to pick from, some of which are exclusive in Northern Ireland.
To complete the package, your choice of product is backed by a full in-house design service and approved tilers – Tileworks really is a one stop shop for all your needs.
Open to the trade as well as to the public, we have added to the tilers' needs with a new dedicated trade counter, stocking a wide range of tools and accessories.
In short – when it comes to tiles, we have the 'works' at Tileworks. Why go anywhere else?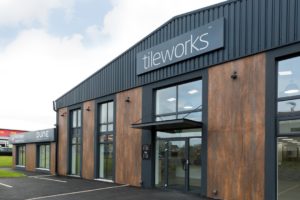 Services
["Bathroom Tiling","Domestic Installation Fixing","Kitchen Tiling","Specification Advice","Wall tiling"]
Map
Address: 18-20 Balloo Drive, Bangor, BT19 7QY