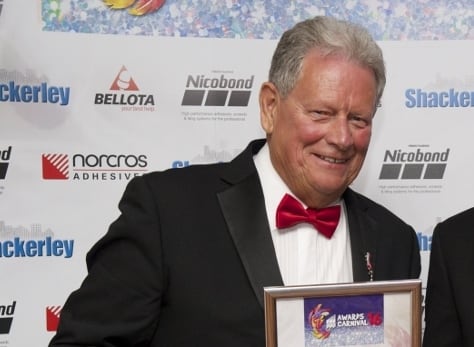 Tile Association board member Bob Howard MBE has been appointed the new chairman of the National Heritage Training Group.
Bob says he is excited by the challenge of taking the NHTG forward at a time of increasing political and economic uncertainty.
"Despite everything else that is going on around us," he said, "we must not lose focus on the challenges facing the heritage sector, not least the alarming shortages in our traditional crafts skills base.

"Our architectural inheritance must be safeguarded for future generations and that can only be achieved through training and education. We must ensure vital skills, knowledge and experiences are passed on and I firmly believe it is the role and indeed the responsibility of the NHTG to oversee this transition."

Bob also sees the work of the NHTG Project Management Board in delivering the new bursary programme (funded by HLF to provide heritage training in the workplace) as a great example of how the NHTG is shaping the future of the sector.
"I hope my own extensive craft and industry experience accumulated over the past 52 years will help NHTG in our promotion and delivery of heritage skills to a workforce which will be increasingly in demand."
Born and educated in Manchester, Bob has been in the wall and floor tiling industry since leaving school. His career path took him from a five-year bound indentured apprenticeship to become a lecturer at the Manchester College of Building before moving south in 1978 to become director and subsequently managing director of a London-based tiling contractor.
He was the last chairman of the National Association of Master Tile Fixers and one of the founders of The Tile Association. As past chairman and current board member of the TTA he chairs the Training Committee, represents the Technical Committee and carries out technical inspections on their behalf, but still finds time to run his own business as an independent consultant for wall and floor tiling.
Bob also represents the TTA in Europe where he is President of the European Union of Tile Fixers, an umbrella organisation that represents 11 European Trade Associations from its registered office in Brussels.
In 2012 in the Jubilee Honours List, Her Majesty the Queen presented Bob with the MBE for services to the British wall and floor tiling industry. He is also a Liveryman to The Worshipful Company of Tylers and Bricklayers.
An NHTG spokesman said: "The NHTG is delighted that such a passionate, influential and experienced individual will be leading the team forward in the next stages of its development as it continues to promote heritage skills as a priority for UK construction."