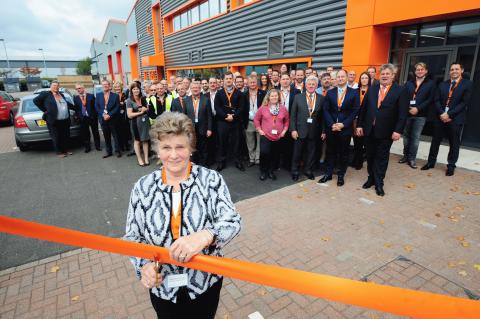 The Schl?ter-Systems Education Centre (SSEC) in Leicestershire was officially opened in October, with company founder Werner Schl?ter and his family making a special visit from Germany for the celebrations.
Located on the Bardon 22 industrial estate in rural Leicestershire, the SSEC building with a stunning orange and grey fa?ade (Schl?ter corporate colours), stands out as a unique architectural accomplishment.
TTA member Schl?ter-Systems has been the market leader in essential accessories for tile and stone since it was founded in 1966. With over 10,000 products in its range, Schl?ter-Systems provides second-to-none edge protection, complete system-solutions and dedicated technical support.
The opening was a celebration of the new building and facilities, which provide a first-class environment for practical and hands-on training of contractors, resellers and specifiers, as well as the continued commitment to training the industry which has been at the heart of Schl?ter-Systems since 1966 and the UK subsidiary since 1993.
The renovation project started over 12 months ago and the investment saw the interior and exterior of the building modernised and rearranged to utilise the space for the rapidly growing number of staff, with an atrium opening into the new dining area and an improved training facility to host the SSEC workshops for tilers, resellers and specifiers. The building demonstrates a commitment from the company to increasing skills and development within the industry and raising standards for the profession.
As a perfect showcase and testament, Schl?ter-Systems products have been used throughout the building. Among the many unique design features, the facility incorporates radiant under-wall heating in the formal reception area, and an informative exhibition room, where products are displayed alongside a feature wall showcasing the seven subsidiaries and group vision.
One of the most impressive features is noticed as you look up through the atrium opening to the ceiling to see the Schl?ter 'trapezoids' logo (three triangle-like shapes), with a subtly illuminated orange glow emanating from the recess of the ceiling, with the added ability to change the colour depending on the mood.
Mrs Baerbel Schl?ter, co-founder of the company and wife of Werner Schl?ter, cut the ceremonial ribbon to officially open the building (pictured above). The guests enjoyed a champagne reception with a live jazz band and a tour of the facility before networking and socialising with peers from across the industry.
Managing director Joachim Backes, who joined the company in 2013, said: "It is fantastic to finally see our ideas turned into reality. It hasn't been easy, but it was our vision to create an environment that our customers can enjoy and benefit from, and for our staff to be proud to work in, and I believe we have succeeded. Clients now benefit from a real-life, hands-on demonstration of our systems and solutions and can see for themselves how our products work.

"We hope that everyone who visits the Schl?ter-Systems Education Centre will enjoy the facility as we look to build on existing relations and create new ones with our customers at this great centre of innovation."
Training events are fully booked until the end of the year but if you would like to book dates for 2016, call 01530 813396, email training@schluter.co.uk or visit www.schluter.co.uk