Tile of Spain's 2016 trend report gives a fascinating insight into the styles and collections that will be making waves in the wall and floor tiling industry this year.
Based on the?2016 Cevisama tile fair in Valencia in February, the report shines a light on the latest products, looks?and technologies from the Spanish tile?industry ? with rich blues, copper glazes,?interlocking 3D shapes and fashion-inspired fabric?effects leading the way…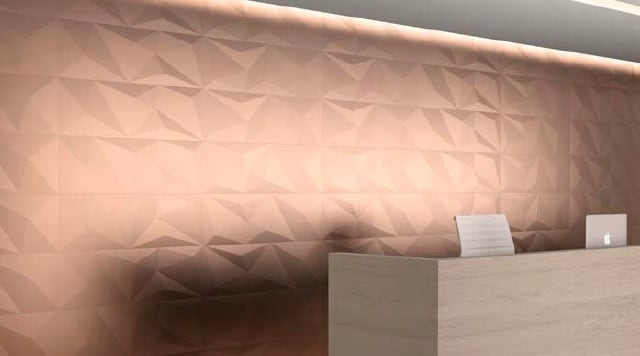 Copper mania
Designers have fallen in love with copper, a glimmering and cost-effective material?that brings a touch of luxe with a dash of cool. Copper mania is also making its?presence felt in Spanish tiles. Pioneering brands specialising in metallic glazes have?unveiled shimmering wall tiles enhanced by 3D features in matt, gloss and antique?finishes. Copper-effect porcelain flooring designs complemented by intriguingly?textured geometric wall pieces also made an impact.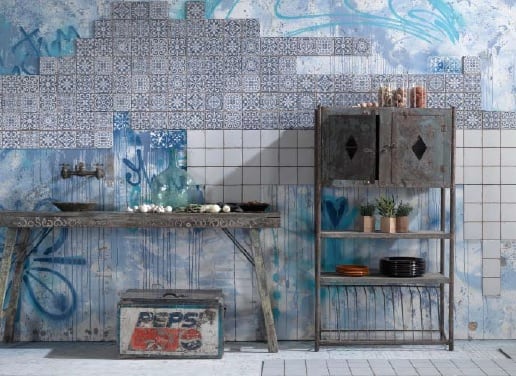 Into the blue
From navy to turquoise and aquamarine ? shades of sea blue are the primary?colours of the season and look set to last. Watercolour and oxidised metal effects?add extra depth and impact to tiles in these perennially popular shades, while high?gloss ?mayolica? style finishes pay homage to the artisanal roots of today?s advanced?Spanish ceramics.
Tiles meet textiles
From tweeds and tartans to houndtooth, zigzags and weave effects, several leading?Spanish brands have taken inspiration from the world of fashion and fabrics and?translated these ideas into the latest ceramic collections. Championing this new?textile trend, key influencers in the industry are offering looks straight from the?catwalk to create statement new concepts for floors and walls.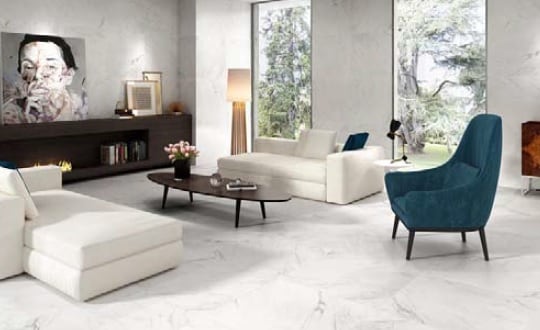 Marbleous!
The beauty of white marble has an undeniable allure. Now the Spanish tile industry has?combined high-tech digital printing and purity of pigment with durable, low-maintenance
and easy-to-install ceramics ? making this precious aesthetic more widely available,?affordable and practical. Book matching is easier than ever thanks to innovative?slim-profile, large-format technical porcelain. Ideal for sleek bathrooms, countertops,?floors, walls, and exterior applications, marble effects are also offered in anti-slip finishes,?3D elements and recycled glass mosaics.
Shaping up
The new generation of creative ceramics allows for an exciting interplay of?shapes using sculptural tiles, as celebrated in the latest collections by leading?Spanish manufacturers. The key to creating a purely bespoke and very personal?piece of wall or floor art is in the unique arrangement? a trend that?s bound to?win the hearts of architects, designers and DIY enthusiasts alike.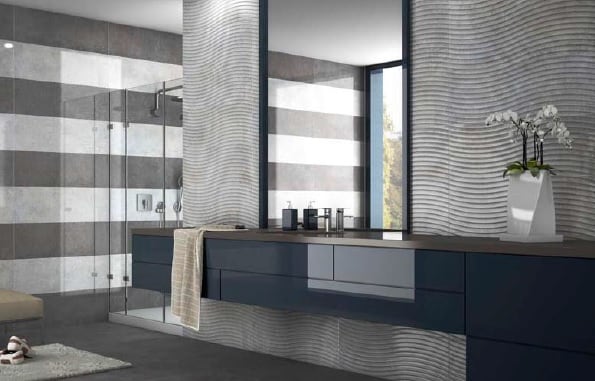 New Wave
The key to timeless design is a careful selection of the finest materials, a neutral?colour palette and elegant details such as subtle ripple effects, which are returning?to popularity in tiles. Wave patterns are seen in many of the latest collections by?renowned Spanish brands and are now offered in larger, rectified formats to allow?for minimalist grout-free looks on feature walls.