TTA are working with the organisers to support the new and exciting exhibition launch of the UK's only dedicated Tiling Show this year,?which?will sit alongside the well established?Flooring Show, 18th-20th?September at the International Centre, Harrogate.
We have negotiated a 10% reduction for our members who wish to exhibit at the show…
Further information and pricing is available via the link below…
https://www.thetilingshow.com/exhibit/exhibit-with-us
If you'd like more information please contact support@tile.org.uk or call on 0300 365 8453.
As a FREE?show, it is a great opportunity for members of the general public to come along and have a go themselves!
So far, the list of attendees' are:
The companies?in bold are TTA Members…
365 Drills,?Bellotta,?Bond It,?Ceramic Limited,?Distribution Supplies,?Dural UK Limited,?Genesis,?Harrogate Stone Solutions,?Jackobond Tilebacker,?Kerridge Commercial Systems,?Larsen,?Porcel Thin,?Rocatex,?Sigma UK,?The Tile Company,?Tiles Ltd,?Tiles Porcelain Limited,?Tomorrows Tile and Stone,?Verona,?Warmup PLC,?Waxman Group.
TTA members also have the opportunity to showcase their products, as we have a dedicated Demonstration?Area available to us for the duration of the show. ?We're putting the programme together for this now,?and would?welcome your participation. Below is an idea of what the Demo Area will look like – we'll have full access to AV equipment, screens, power and water.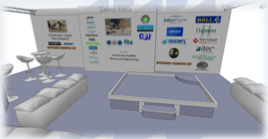 The TTA have stand Q27 which?is circled in red on the below image.